Yinspiration Myo Fascia & Yin Teacher Training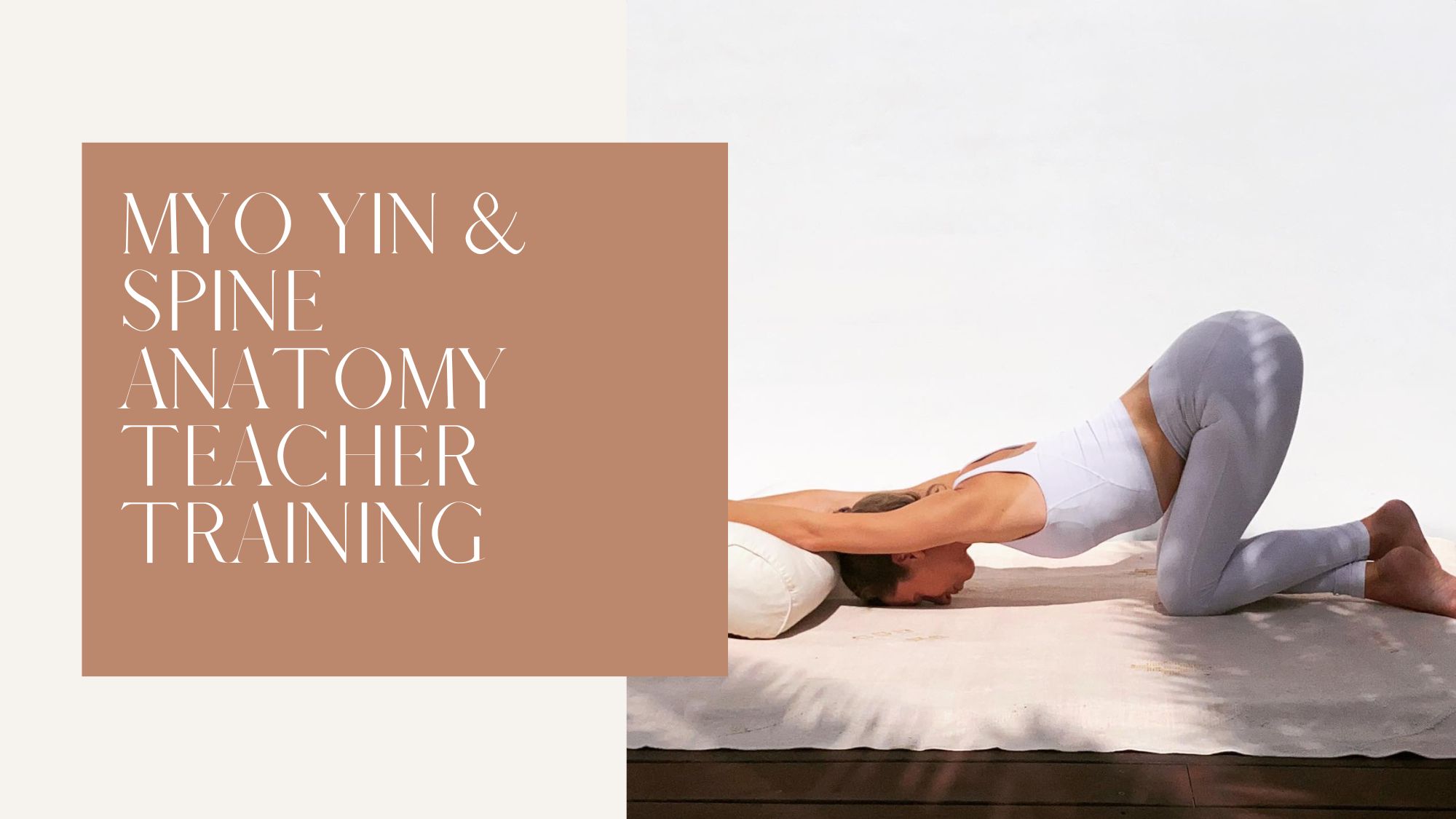 (English translation below)
Al een aantal jaar geven we myo fascia release retraites en workshops en wij zijn iedere keer weer verrast en verbaasd hoe effectief dit is voor spanning in het lichaam en hoeveel het voor je kan doen. Dit is allemaal begonnen nadat ik een myo fascia release teacher training heb gevolgd bij Franziska.
Het goede nieuws is dat zij naar Mediteren en Kamperen komt deze zomer om de opleiding te geven. Voor dit jaar is dit de enige myo yin teacher training van Fran in Nederland. We zijn ontzettend blij dat we dit samen kunnen organiseren.

Datum:
Vrijdag 2 juni t/m vrijdag 9 juni

Vrijdag 2 juni is de dag dat je kunt arriveren op ons terrein. De opening is in de avond dus je hebt genoeg tijd om naar onze plek te reizen. Het volledige dag programma start 3 juni.

Wat is het?
Myo Yin is een unieke manier waarin myo fascia release rol technieken op een creatieve manier worden gecombineerd met Yin Yoga. Je leert alles over de laatste onderzoeken van fascia, de rol van fascia in het behandelen van myofascial pijn en hoe je dit op een praktische manier kunt toepassen.

Deze technieken en kennis zijn een cadeau waar je je hele leven plezier van kan hebben. Je krijgt (nog) meer tools die je kunt toepassen bij spanning in je lichaam of ter ondersteuning van blessures en om licht en vrij te kunnen blijven bewegen.

Voor wie?
- Deze opleiding is ideaal voor professionals uit de gezondheid, beweging, of yoga branche. Na deze opleiding kun je de technieken goed toepassen in je eigen lessen, trainingen en de begeleiding die je geeft.
- Deze opleiding kan ook interessant zijn als je geen professional bent maar wel een grote interesse hebt in het lichaam, anatomie, myo fascia release en precies wilt weten welke oefeningen je kunt doen als je spanning of andere klachten ervaart in je lichaam.

Wat moet je weten?
Je hoeft geen yoga docent te zijn om deze opleiding te doen. Wel is het handig als je basis kennis hebt van de yin houdingen omdat die niet uitgebreid besproken worden.
Tussendoor houden we korte pauzes.

Kamperen
Je kunt met je eigen tentje komen als je die hebt maar je kunt bij ons ook een koepeltentje huren die we al voor je opzetten. Of de wat luxere variant, een buitenbed, hierin heb je meer comfort met een fijn verzonken matras en prachtig uitzicht over het weiland.

Investering
Prijs 2000 euro incl 9 procent BTW, inclusief de volledige teacher training, de overnachtingen op de camping en alle maaltijden.

Het is ook mogelijk om in termijnen te betalen. Neem contact met ons op als je hier interesse in hebt.


De prijs is inclusief:
- 7 overnachtingen op ons kampeer terrein
- Het volledige les programma
- 3 gezonde en vega maaltijden per dag vanaf 3 juni t/m 9 juni
- tussendoor kun je onbeperkt fruit, koffie en thee pakken wanneer je wilt

Ook krijg je tijdens de training een goodiebag, een uitgebreid myo fasciaTraining Manual en het boek 'Book of Yin' van Jo Phee.
English Translation:
For several years we have been giving myo fascia release retreats and workshops and every time we are surprised and amazed how effective this is for tension in the body and how much it can do for you. This all started after I attended a myo fascia release teacher training with Franziska.

The good news is that she is coming to 'Mediteren en Kamperen' this summer to teach the training. For this year, this is Fran's only myo yin teacher training in the Netherlands. We are extremely happy to be able to organize this together.

Date:
Friday, June 2 untill Friday, June 9

Friday, June 2 is the day you can arrive at our premises. The opening is in the evening so you have enough time to travel to our place. The full day program starts on saturday 3 june.

What is it?
Myo Yin is a unique way in which myo fascia release roll techniques are creatively combined with Yin Yoga. You will learn all about the latest research on fascia, the role of fascia in treating myofascial pain and how to apply it in a practical way.

These techniques and knowledge are a gift you can enjoy throughout your life. You will get (even) more tools that you can apply in case of tension in your body or to support injuries and to keep moving lightly and freely.

For whom?
- This training is ideal for professionals in the health, exercise or yoga industry. After this training you will be able to apply the techniques well in your own classes, trainings and the guidance you give.
- This training can also be interesting if you are not a professional but have a great interest in the body, anatomy, myo fascia release and want to know exactly what exercises you can do if you experience tension or other complaints in your body.

What you need to know?
You do not need to be a yoga teacher to take this course. However, it is helpful if you have basic knowledge of the yin postures because they are not discussed in detail. Het dagelijkse rooster ziet er zo uit.

Daily schedule
7.30-8.30 myo yin class
8.30-9.10 Breakfast
9.10-12.10 Lectures (Fascia) & Practice (Myofascial Release Practice)
12.20-13.20 Lunch
13.30-17.30 Lectures, Anatomy, Yin Yoga
18.00-19.00 Dinner
Camping
You can come with your own tent if you have one, but you can also rent a small tent that we will set up for you. Or the more luxurious variant, an glamping tent, in which you have more comfort with a fine sunken mattress and a beautiful view over the meadow.

Investment

2000 euros incl VAT , including the full teacher training, overnight camping and all meals.


It is also possible to pay in installments. Please contact us if you are interested in this.

The price includes:
- 7 nights' accommodation on our campsite
- The full tuition program
- 3 healthy and veggie meals per day from 3 June to 9 June
- In between you can take unlimited fruit, coffee and tea whenever you want
During the training you will also receive a goodie bag, a comprehensive myo fasciaTraining Manual and the book 'Book of Yin' by Jo Phee.

You will learn this

Myofascial Release: Theory & Practice
What are Trigger Points
Fascia Study: Current Science & Research
Endoscopic Anatomy of Fascia
The Architecture of Fascia
Tissue Behaviour of the Sliding System
Role of Fascia & Fascial Dysfunctions
Treating Myofascial Pain
Fascial Sliding, Sawing, Pinching
Skin Rolling & Fascial Snap
Fascia's Role in Yin Yoga
Biotensegrity in Yoga
Roll & Release Techniques & Methods
Ball Sequencing & Teaching Methodology
Fascial Bouncing Sequence
Fascial Facial
Yin Yoga Theory and Practice
Analysis of Classic Yin Poses
Prop Usage and Modifications
Safety in Yin Yoga
Practicum: How to Teach Ball Techiques to Students
Combining Myofascial Release with Yin Yoga
MyoYin Sequenci
Anatomy 101 (Spine)
Physiology & Kinesiology (Spine)
Common Pathologies & Treatments (Spine)
Skeletal Variations (Spine)
Functional Anatomy Lab (Spine)
Analysis of Yin Yoga Poses (Spine)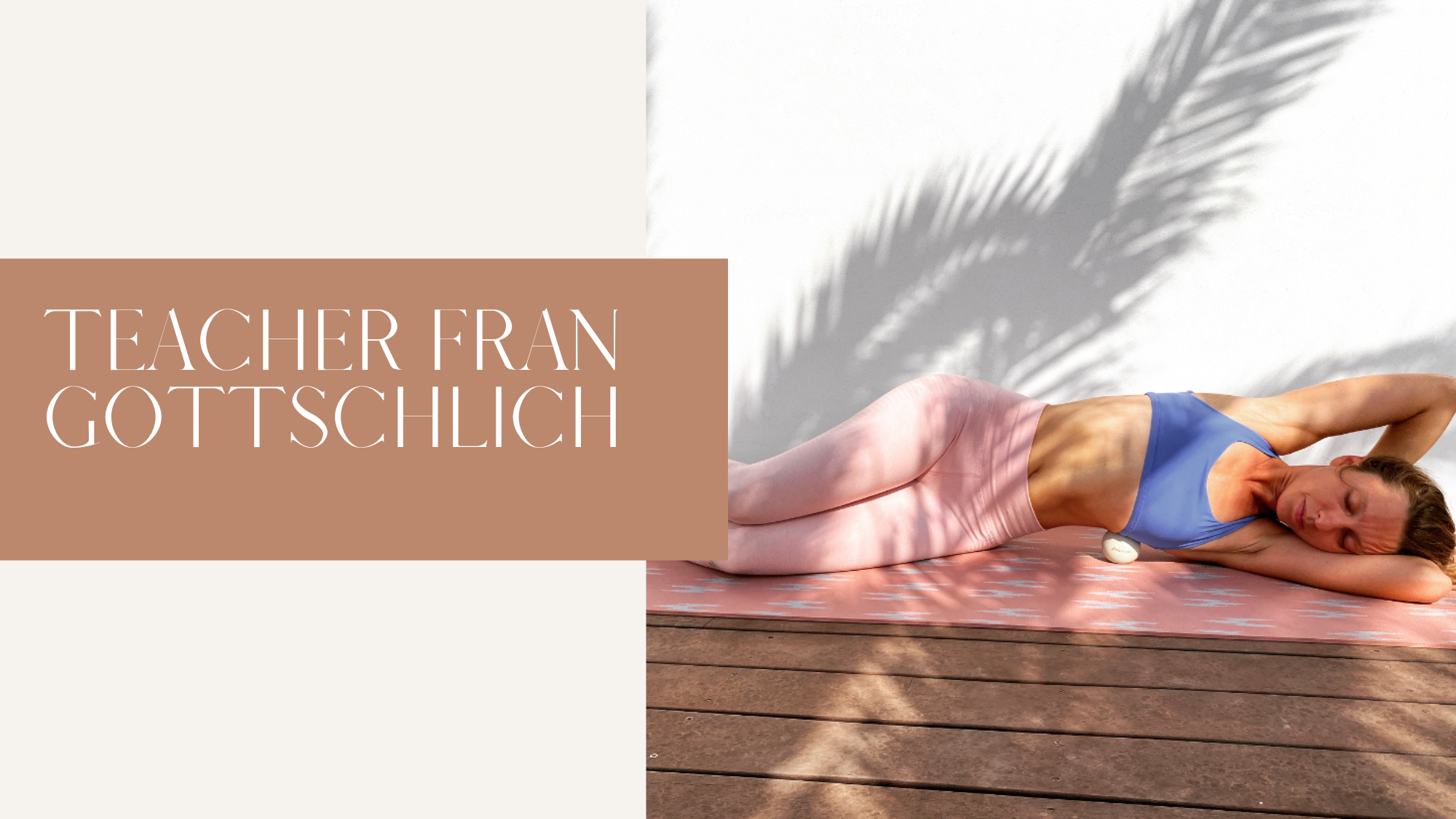 Fran is a full time Yinspiration Yin Yoga Teacher Trainer, teaching the curriculum of the Chinese Medicine and Myofascial Release modules curriculum.
Fran has more than 18 years of yoga practice experience.

Since graduation, she taught hundreds of public classes and managed over 30 retreats as the lead teacher and manager.

Reviews:
"The Myo-Yin training with Fran was super exciting, structured in a really interesting way, including a lot of practice time. Fran is delivering passionately the material which is experienced in the practice time. She is a lovely and fantastic teacher; I would start another training with her anytime. "
-Sandra

Taking the MFR training with Franziska was among the best decisions I have taken.But then Franziska was excellent. She has an in-depth knowledge about the subject and goes out of her way to passionately teach MFR with a lot of patience and clear any queries that we had. She also left us with a wealth of material and resources that we could keep going back to revise and understand the subject better. This training also gave me the confidence to teach MFR and use it as part of my own practice as well. Thank you Fran.
-Ash


I really enjoy training with you, even from afar. I think you have a wonderful energy and a very calm and engaged way of teaching - both on the mat and these courses.
-Gerbrig

"Fran is a fantastic teacher who is able to share her passion in an amazing way. Really recommendable!"
-Nora

I am grateful that I found Fran as my Yin Yoga teacher because I have found someone who is gentle and firm, precise and flexible, who can calmly and knowledgeably convey the teachings of Yin Yoga. With her help I understood how to teach functional yoga, one that is suitable for each person depending on their body, which for me is very important to put into practice the teaching of non-violence of the body. My life changed after I started practicing Yin yoga towards a more aware and peaceful life. With deep gratitude